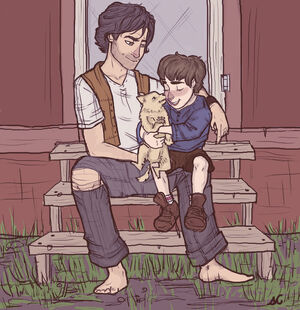 Cillian Boyd, commonly known as Cillian, is one of Todd's father figures. Ben and Cillian were friends of Todd's parents so when they died, they took in Todd. Cillian was convinced by Ben to come to New World and he farms wheat and sheep on their farm with Todd and Ben. He and Todd fight a lot, but according to Ben, this is because he cares about him. It is never established if Ben and Cillian are in a romantic relationship however.
Cillian's noise is usually a reddish colour, as said by Todd. Cillian wanted to fight against the men of Prentisstown when they were killing the women, but Ben made him stay so they could look after Todd. Cillian dies defending their house to allow time for Todd to escape.
Cillian is pronounced "Killian".
Ad blocker interference detected!
Wikia is a free-to-use site that makes money from advertising. We have a modified experience for viewers using ad blockers

Wikia is not accessible if you've made further modifications. Remove the custom ad blocker rule(s) and the page will load as expected.